Energize Special Orb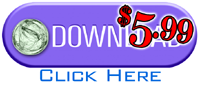 The link on the right will take you to the download page on payloadz. The Specialty Orb, is a modest $5.99. This is a one-time fee. There are no in-game fees or charges.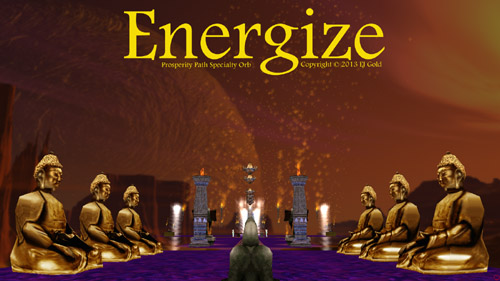 Metatool Functions
ENERGIZE -- We all need a power-boost now and then, right? Well, here are the steps that you need to take to use Spirit-Power to energize yourself up to the highest level possible in your local time-space continuum, or discontinuum, if you're one of those seven days, eight nights & meals folks, just vacationing on Urth.
A word about this orb
An Orb "must have!" This is an Orb which can be used to power-up other runs -- or shuttle their energies into hyperspeed.
As we've been seeing, the Orb releases are slowly unfolding into deeper dimensions and levels. ENERGIZE strips away the structure which has guided us this far and leaves us with only the PATH.
Once more, we run -- not as a selected body -- but as the strange Triad introduced in previous Orbs. Man and Woman bookend the Hooded Figure we've been getting familiar with from our first Run. Like the Orbs themselves, this figure will be further divested of cloaking. What is hidden beneath? To answer this question, you have two options: Wait and See -- or Run until you burn away the Cloak and join the hands of your two Companions! Either way, Energy will pour into your Life and fuel your Quest!
Daily life asks expenditure of Prana or Life Force. Operating as Voyagers within our personal Urthgame, we may find ourselves in situations where vital aspects of our experience are met with fatigue or weariness. This Virtual Meditation serves to expand our reservoirs of what some call "Personal Power." Stimulants may momentarily carry us an extra hundred yards but not without damage to the system. This Orb is a means to extend the SYSTEM ITSELF! Frequent Runs will increase "battery time" while forging links to latent powers which may draw upon this expanse of energy.
Treat this Orb like a Mystic Garden. Growth is gradual but certain. Imagine being sluggish and out of shape. Your first walk around the block might seem tough but in a week, it may suddenly seem refreshingly brisk. Before you know it, you're off for your morning JOG! What happened? YOU changed in CAPACITY for the expression of energy. You can contain and manifest MORE!
We all have important Work to do in this Urthlife -- and we can all use more Energy in the Process! Enter this strange and joyful place to connect to an "Alter-Ego" capable of tapping an Infinite Source of Vivifying Power. Through the Quantum Entanglement Principle applied to these "Games," we can link with this Persona and find our mortal lives changing as a result.
Last I checked, energy drinks weren't being offered for a 99 cent download fee with infinite refills 24/7.
Music From The Game
The music used in this orb (Storm Warning, Off the Planet, Brain Terrain, Postcard to Home) may be purchased from, CDBaby, iTunes, or Only The Best CDs.
Just ran Energize and I'm impressed. Just wow. I did not expect to be actually energized, but I think Kyle was on to something. It was, indeed, a deep energization on many levels, and the orb is so conveniently short that it's perfect for when you gotta leave for a long, traffic-swamped drive to work or the grocery store or something. The orb makers have produced a great one with Energize!
A.S.
I have discovered a new use for the Energize orb...trance dancing or ESD. I put on the orb and let it run. It might be fun to have a orb dance loop. I'd also vote for Zombie Jamboree and the new Shake Your Bud-da :-) from Monday's music session.
W.C.